Sunday, February 15th, 2009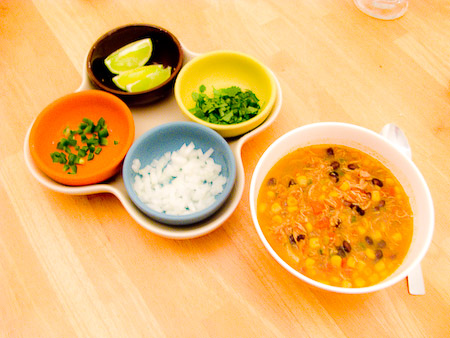 Here is my favorite new recipe for Chicken Tortilla Soup – I usually go sans tortilla.
3 small boneless skinless chicken breasts (smallest package of chicken breasts you can find)
1/2 tsp black pepper
1/2 tsp garlic powder
1 tbl dried parsley
1/2 tsp onion powder
1/2 tsp cumin
1 jalapeno – diced
1 small onion – chopped
3 cloves garlic – minced
1/2 cup celery
1 small red bell pepper – chopped
1 small orange or yellow bell pepper – chopped
Hidden Valley small package dried ranch dressing mix – use to season to taste (adds salt)
1 can corn
1 can black beans
1 can diced tomato
1 can mexican salsa – something with good flavor
Swanson's chicken broth – add enough as needed after you have added all other ingredients
Lime wedges. fresh cilantro, fresh diced onion, shredded Monterrey jack cheese, avocado – for set ups at the table.
In large soup kettle, cover chicken breasts with water, add pepper, garlic powder, parsley, onion powder and cumin to water and boil for one hour. Remove breasts from broth and shred in bowl with two forks. Strain broth for fat and put back into soup kettle with shredded chicken. Add all other ingredients and simmer for 2 hours covered.
Serve with set-ups table side