a little backyard birding
I just love these little Lesser Goldfinch, we have 2 thistle socks out for them this year and they are SO happy! We have at at least 4 pairs and they are nesting in our big Live Oak trees out front. They are usually the first out with new babies each year, just saw the first ones yesterday. The male was singing when I took this picture – "poooo-eeee" with a lilt up at the end.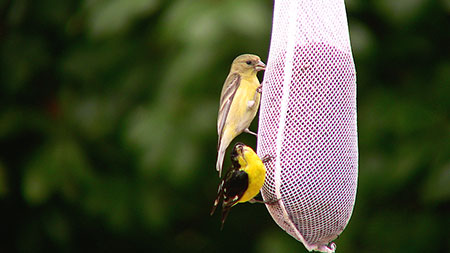 This little guy is a Yellow Rumped Warbler and had been hanging around the suet all winter. I have not seen him or the Orange Crowned Warbler in days, so I am thinking they are nesting right now too. I love this guys little heart shaped marking on his breast.